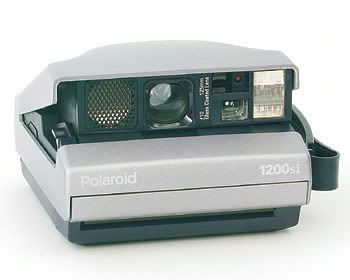 Eulogy for the Polaroid Camera

This year we shake our head
and mutter to ourselves
Another One Gone!

Your loss makes us feel
the weight of ages
We are taken

back to a time there was
a shutter, a whirring
Seconds later

Shaking, we discovered what sins
we had committed. Oh
Cassandra

Camera, you displayed to us the future
But we couldn't see it.
Not enough time

Spent waiting for these pictures to form.
Too much time spent
looking through

The glamorous liquid crystal aperture
to see too little
could be seen

Through a tiny LCD screen.
We didn't see
you had run

Out of film, while our data chips fill with
disappointments
and regrets.

Reading: "Mean Time" – Carol Ann Duffy
Listening: "Shipbuilding" – Elvis Costello & The Attractions